Fundamentals Class
The SharePoint Fundamentals class presents all the essential SharePoint features and information organization decision points.  The course does not require any prior knowledge of SharePoint.  If you've already been working with SharePoint, the course will clear up areas that might be confusing and introduce you to a lot of not so obvious functionality.
8 hours of recorded presentations and demonstrations
9 hours of hands-on labs and exercises
Intended for: Content Managers, Site Administrators, Designers, and Managers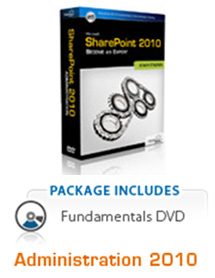 Administration ClassThe SharePoint Administration Class presents SharePoint architecture, administer tools, and best practices.  We cover web application and site collection management, search and user profiles administrations, backup and many other topics.    The course requires working knowledge of Windows Server and basic knowledge of SQL Server.
11 hours of recorded presentations and demonstrations
12 hours of hands-on labs and exercises
Intended for: System Administrators, Architects, and Managers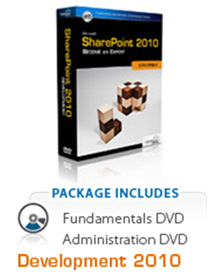 Development Class
The SharePoint Development Course shows how to use Visual Studio to make necessary customizations and application integration. One needs to be familiar with .NET technologies to be successful in this course.  We cover important fundamental and administration topics before going into development because we believe that to be able to make proper customizations, the developer needs to understand SharePoint inside and out.  We focus on cost effective SharePoint development because everything can be customized but not everything should be.  Also, in many cases, customizations should be done using Designer and InfoPath instead of Visual Studio.
17 hours of recorded presentations and demonstrations
14 hours of hands-on labs and exercises
Intended for: Developers, Architects, Administrators